Introduction
備忘録。
How to do?
現在のバージョンの確認
特権 EXEC モードから show version でインストールされているバージョンを確認。
1
2
3
4
5
6
7
8
9
10
11
12
13
14
15


enable
Password:
show version
Cisco IOS Software, C2960C Software (C2960c405-UNIVERSALK9-M), Version 15.2(2)E3, RELEASE SOFTWARE (fc3)
Technical Support: http://www.cisco.com/techsupport
Copyright (c) 1986-2015 by Cisco Systems, Inc.
Compiled Wed 26-Aug-15 10:45 by prod_rel_team

ROM: Bootstrap program is C2960C boot loader
BOOTLDR: C2960C Boot Loader (C2960c405-HBOOT-M) Version 12.2(55r)EX9, RELEASE SOFTWARE (fc1)

WS-C2960C-8TC-L uptime is 1 hour, 44 minutes
System returned to ROM by power-on
System image file is "flash:/c2960c405-universalk9-mz.152-2.E3/c2960c405-universalk9-mz.152-2.E3.bin"
Last reload reason: power-on

IOS のダウンロード
製品のページ
から ダウンロード => IOS Software と辿る。
過去のリリースを見ると、Release 15.2.2E3 MD は 16-Mar-2016 とあり、結構前のソフトウェアであることがわかる。
ただし、最新リリースは Release 15.2.7E6 MD の 25-Mar-2022 と最近まで更新されていることがわかる。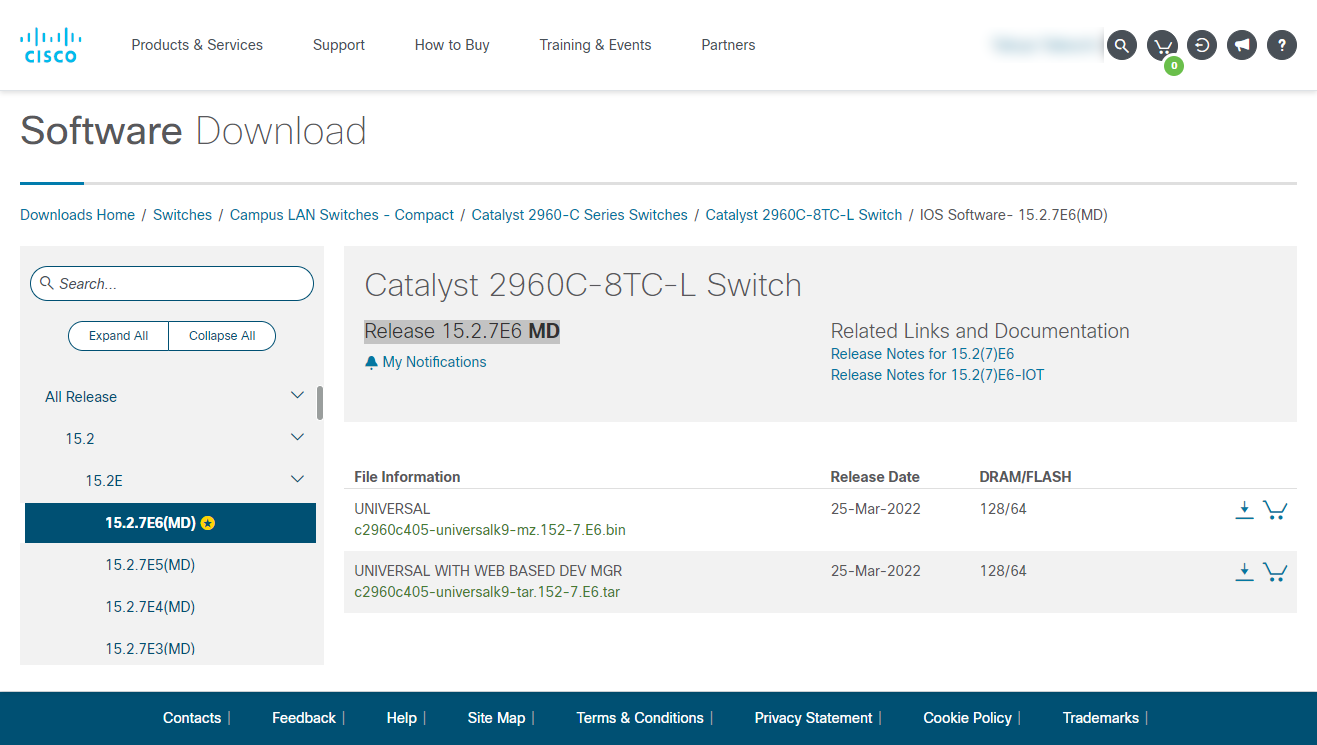 流石ネットワーク機器世界最大手 Cisco!!
UNIVERSAL と UNIVERSAL WITH WEB BASED DEV MGR があるが、後者は Web インターフェースを含めた IOS を更新してくれるのでここでは後者を選択。
IOS のバックアップ
空き容量と現在の IOS の場所を確認。
1
2
3
4
5
6
7
8
9
10
11


show flash

Directory of flash:/

    2  -rwx        1020   Jan 2 2006 01:06:20 +00:00  config.text
  621  -rwx           5   Jan 2 2006 01:06:20 +00:00  private-config.text
    3  drwx         512  Mar 30 2011 01:39:15 +00:00  c2960c405-universalk9-mz.152-2.E3
  619  drwx         512  Mar 30 2011 01:39:16 +00:00  dc_profile_dir
  622  -rwx        2072   Jan 2 2006 01:06:20 +00:00  multiple-fs

59996160 bytes total (38240256 bytes free)

IOS のディレクトリへ移動。
| | |
| --- | --- |
| 1 | cd c2960c405-universalk9-mz.152-2.E3 |
現在のディレクトリの中身、つまり IOS を ftp に c2960c405-universalk9-mz.152-2.E3.tar というファイル名でバックアップ。
1
2
3
4
5
6
7
8
9
10
11


archive upload-sw ftp://test:password@192.168.11.21/c2960c405-universalk9-mz.152-2.E3.tar
Writing c2960c405-universalk9-mz.152-2.E3.tar 
System software to be uploaded:
System Type:             0x00000000!
archiving c2960c405-universalk9-mz.152-2.E3 (directory)
...
archiving c2960c405-universalk9-mz.152-2.E3/html/empty.htm (313 bytes)
archiving c2960c405-universalk9-mz.152-2.E3/c2960c405-universalk9-mz.152-2.E3.bin (16619520 bytes)!!!!!!!!!!!!!!!!!!!!!!!!!!!!!!!!!!!!!!!!!!!!!!!!!!!!!!!!!!!!!!!!!
archiving c2960c405-universalk9-mz.152-2.E3 (directory)
archiving c2960c405-universalk9-mz.152-2.E3/info (419 bytes)
archiving info (113 bytes)

IOS の更新
ftp 側にダウンロードしてある IOS のファイル (ここでは c2960c405-universalk9-tar.152-7.E6.tar) を指定して、ダウンロードと上書き更新を実行。
なお、更新元のファイルが *.tar の場合は、download-sw を使う。
時間がかかるので気長に待つ。
1
2
3
4
5
6
7
8
9
10
11
12
13
14
15
16
17
18
19
20
21
22
23
24
25
26
27
28
29
30
31
32
33
34
35
36
37
38
39
40
41
42
43
44
45
46
47
48
49


archive download-sw /overwrite ftp://test:password@192.168.11.21/c2960c405-universalk9-tar.152-7.E6.tar    
Loading c2960c405-universalk9-tar.152-7.E6.tar !!!!!!!!!!!!!!!!!!!!!!!!!!!!!!!!!!!!!!!!!!!!!!!!!!!!!!!!!!!!!!!!!!!!!!!!!!!!!!!!!!!!!!!!!!!!!!!!!!!!!!!!!!!!!!!!!!!!!!!!!!!!!!!!!!
[OK - 33095680/4096 bytes]

 Could not buffer tarfile...using multiple downloads
examining image...
Loading c2960c405-universalk9-tar.152-7.E6.tar !!!!!!!!!!!!!!!!!!!!!!!!!!!!!!!!!!!!!!!!!!!!!!!!!!!!!!!!!!!!!!!!!!!!!!!!!!!!!!!!!!!!!!!!!!!!!!!!!!!!!!!!!!!!!!!!!!!!!!!!!!!!!!!!!!
extracting info (113 bytes)
[OK - 33095680/4096 bytes]

Loading c2960c405-universalk9-tar.152-7.E6.tar !
extracting c2960c405-universalk9-mz.152-7.E6/info (418 bytes)!!!!!!!!!!!!!!!!!!!!!!!!!!!!!!!!!!!!!!!!!!!!!!!!!!!!!!!!!!!!!!!!!!!!!!!!!!!!!!!!!!!!!!!!!!!!!!!!!!!!!!!!!!!!!!!!!!!!!!!!!!!!!!!!!
extracting info (113 bytes)
[OK - 33095680/4096 bytes]


System Type:             0x00000000
  Ios Image File Size:   0x0115AA00
  Total Image File Size: 0x01F90200
  Minimum Dram required: 0x04000000
  Image Suffix:          universalk9-152-7.E6
  Image Directory:       c2960c405-universalk9-mz.152-7.E6
  Image Name:            c2960c405-universalk9-mz.152-7.E6.bin
  Image Feature:         IP|LAYER_2|SSH|3DES|MIN_DRAM_MEG=64
  FRU Module Version:    No FRU Version Specified

Old image for switch 1: unknown

Extracting images from archive into flash...
Loading c2960c405-universalk9-tar.152-7.E6.tar 
c2960c405-universalk9-mz.152-7.E6/ (directory)!
extracting c2960c405-universalk9-mz.152-7.E6/info (418 bytes)
...
extracting info (113 bytes)
[OK - 33095680/4096 bytes]


Installing (renaming): `flash:update/c2960c405-universalk9-mz.152-7.E6' ->
                                       `flash:/c2960c405-universalk9-mz.152-7.E6'
EDS file download on SKU match in progress...

New software image installed in flash:/c2960c405-universalk9-mz.152-7.E6



Deleting old files from dc profile dir "flash:/dc_profile_dir"

extracting dc profile file from "flash:/c2960c405-universalk9-mz.152-7.E6/dc_default_profiles.txt" to "flash:/dc_profile_dir/dc_default_profiles.txt"
All software images installed

再起動
分かりづらいが、 Proceed with reload? の箇所は Enter キーで応答する。
1
2
3
4
5
6


reload

System configuration has been modified. Save? [yes/no]: yes
Building configuration...
[OK]
Proceed with reload? [confirm]

更新後、Web インターフェースにアクセスすると…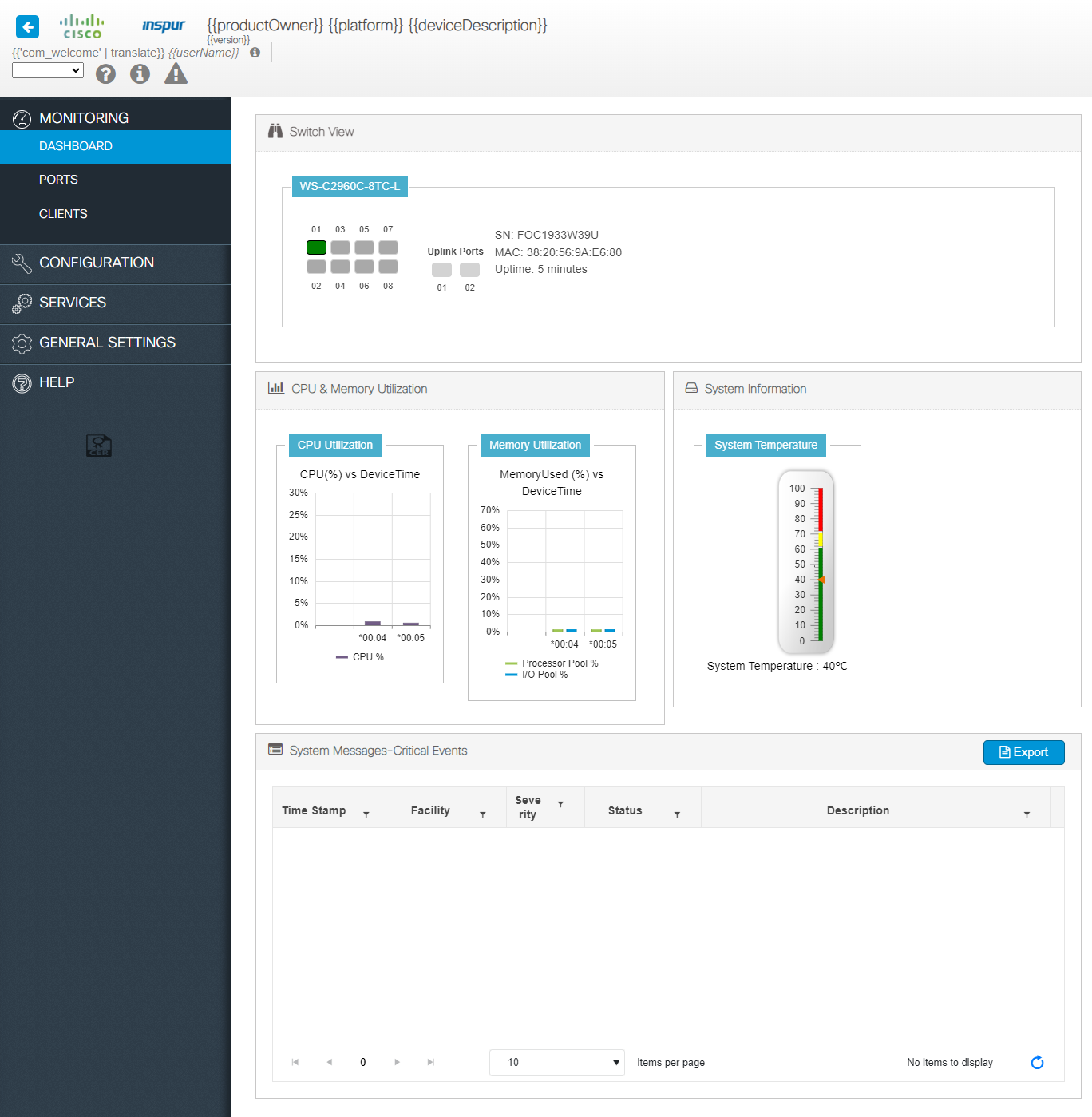 リッチになっています (ニッコリ)。